Jerry G. Jones
Founder
1935-2016
Jerry Gale Jones, Portland businessman, philanthropist, spiritual seeker and meditation teacher, passed away peacefully on December 29, 2016, at his home in Ojai, California.
Born in Portland on October 23, 1935, Jerry grew up in Portland's Rose City neighborhood. He attended Rose City Elementary School, Grant High School (class of '53), and graduated from the University of Oregon with a business degree in 1958. After serving in the Army in Texas and Virginia, Jerry returned to Portland and began working for his father's remodeling company, J&J Construction, starting as a carpenter and eventually working his way to the top of the sales department. He assumed presidency of J&J in 1963, after his father's death.
Over the next decade, Jerry transformed J&J Construction into one of the largest home and commercial remodeling companies in the country, while being very involved in setting professional standards in local construction and business communities.
He co-founded the Oregon Remodelers Association with Neil Kelly, and was an original member of the Contractor's Licensing Board (his license number was 00002).
Jerry sat on the Portland Development Commission, the board of The Portland Homebuilders Association, and was the chapter chairman of the Young Presidents Association of Oregon.

Following his inclination and natural talent for deal making in real estate, Jerry sold J&J in 1982 and formed the J. G. Jones Company in 1983. The company acquired, managed and developed properties in Oregon, California, Texas and the Caribbean. In Oregon, Jerry made his mark with the restoration of the New Market Theater building, once a derelict parking garage in Portland's historic Skidmore District, and with the Searidge condominium development on the Oregon Coast.
Jerry married Darlene Prinz in 1965 and had two children, Gregory and Shannon. By the time of their divorce in 1980, Jerry was increasingly interested in New Age spirituality, having studied Transcendental Meditation in the 1970s as a way to combat stress.
A number of "spiritual experiences," as Jerry put it, occurred in those early years of meditation, leading him to practice yoga, among other disciplines, and to study the teachings of great spiritual masters. This pursuit of spiritual enlightenment would form and transform the rest of Jerry's life and work.
An avid international traveler, Jerry took an extended trip around the globe from 1987-89, spending much of that time in spiritual inquiry at various ashrams in India. He would go on to visit India at least 18 times, and co-authored From Here to Nirvana, a spiritual guidebook to India.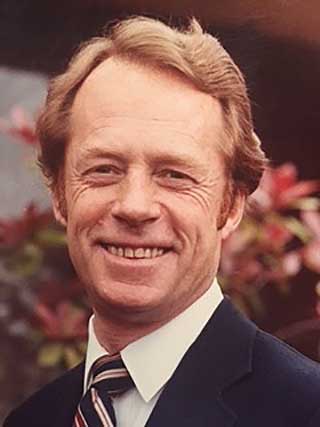 Jerry began working closely with various charities in Asia and elsewhere, serving on a number of boards and advisory boards, most notably as chairman for the SEVA Foundation.
Jerry was also active in local social and cultural causes. He was a longtime trustee of The Portland Art Museum and board chair of the House of Umoja, a project to rehabilitate young gang members in Northeast Portland during the 1990s. He founded the E.T.D. Jones Scholarship Fund in Oregon, which provides college tuition for immigrant and underprivileged students.
In 1999, he formed the So Hum Foundation to further aid the poor of India and around the world.
Jerry's travels also inspired a new dimension of his spiritual life, that of practicing service and philanthropy.
In 1989, he began teaching meditation in churches, prisons and retreat centers free of charge, which he would continue to do at age 80.
In 1996, Jerry married Kristayani Nancy, and he described their years together as the happiest of his life. They shared passions for spirituality, travel, golf, their beloved dog Leela, and their home in Ojai, California, which they built during the early 2000s.
After Kristayani's death in 2008, Jerry continued to travel between Ojai, Portland, and Gleneden, Oregon, one of his favorite places on earth and where he maintained a beach house since 1960.
Whether jogging on the beach on an early summer morning, skiing the slopes of Mt. Hood or Mt. Bachelor, or backpacking in the Wallowa Mountains, he had a lifelong love affair with Oregon's outdoor wonderland.
Physically active and athletic most of his life, Jerry was a member of The Multnomah Athletic Club for almost 50 years and an early proponent of organic foods.
He loved to learn and experience new things, and his sincere, open-minded interest in people and places served him well throughout his full life.
For those who knew him, Jerry set an inspiring standard for honesty, forthrightness, and integrity. These qualities opened doors for him in business and fostered a spirit of philanthropy and leadership in others.
He will be remembered as a quiet, deep, hardworking, kind and generous man, a loving friend and father. He is greatly missed, but joyously remembered.
In his outline of final wishes, Jerry wrote, "As the Robert Frost poem says: 'I want to be all used up when I die…'. I tried to live my life that way, fully and richly as possible. So mourn not for me, celebrate!"
Grants to organizations operating within the USA support a wide range of educational, environmental, animal welfare, health and cultural work. The majority of So Hum Foundation's domestic charities are relatively small organizations based in Oregon and California. 
Founded by Jerry Jones, So Hum is a  501-c-3 private foundation, currently partnering with 63 charities. About two-thirds of So Hum's annual grants assist international work, with a historical focus on India, as well as neighboring Nepal, Tibet, and Afghanistan.